Copyright 2002-2010 © Male Review 411 Atlantic City AC - New York NYC Manhattan - New Jersey NJ Bachelorette Party agency. All rights reserved.
All models were 18 or older at the time the photos or videos were taken.
All images and depictions of male strippers, bachelorette party, male revue, male strip clubs, girls night out were over the age of 21 at the time they were taken
Bachelorette Party Entertainment Ideas
Featured Group for Best all around Customer Satisfaction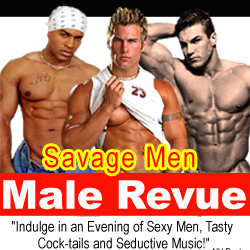 The Savage Men Sexy Male Strippers Revue
New York, Atlantic City, New Jersey and Philadelphia
Indulge in an evening of Sexy Men, Tasty Cocktails and Sexy Music. A virtual high energy audience participation male revue now in it's 10 year.
A high energy whirlwind of gorgeous hard bodies and seductive sensations await you as you make your way into the most Elite awaited Male Revue.
You will be greeted by an entourage of finely sculpted Savage greeters, Waiters and Masseurs, whom will anxiously cater to your every whim. After you make your way to the main room, you and your guests will have a chance to participate in a few pre-show activities, or if you prefer, sit back, enjoy a cocktail, the environment, and perhaps, a long hard relaxing massage by one of our many enticing masseurs.
Your host and tour guide for the evening will lead you through this fun filled event of unparalleled ecstasy.
A variety of packages and recommendations are available to make sure there is nothing overlooked.
Whether it's a bachelorette, birthday or girls night out, Savage Men is your first and only stop to an outrageously amazing evening of laughs, fun and seduction!
Savage Men's cover model male strippers revue has real live models with major national advertisements. From Romance Cover Icons to Armani underwear models to Playgirl Centerfolds, this Revue will have you sliding in your seat.
Savage Men also has 4 shows every week at our Male Strip Clubs New York City, New Jersey Male Strippers Club Abyss and Atlantic City Bachelorette Party Male Strip Show.
Show-time
Now Performing in Philadelphia, New York, Atlantic City, New Jersey and Florida
For photo's and other information visit their web site at www.SavageMen.com or call 888-5-Savage


Our Second Place suggestion for Best all around Chippendales Themed Strip Shows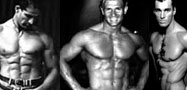 All American Babes Male Revue
All American Babes originates from the great state of Texas. The All American Babes Male Revue was created in 1985 and has not only toured 48 states of the continental United States but also parts of South America and Europe. This Hot and Sexy Male Revue features sex appeal to the max.
Each Stripper is showcased with an incredible ensemble of backup dancers that adds a Broadway flavor. This is a one stop Bachelorette party male stripper review with all the trimmings. Our stage choreography is unparalleled and has propelled our male stripper male revue light years past our competition. Can't make it to the show and in Atlantic City? We can send a male stripper to your hotel to entertain your guests. Call for the availability of your favorite Babe.
The All American Babes men are not just strikingly handsome but also very talented. Each act features life like props (F-16 Fighter Jet) as well as theater 3-d sound and video effects. Most performers sing live, hypnotizing audience members with their vast vocal capabilities while tapping, jazzing or flipping their way into your hearts. The classiest and sexiest show around. The Men you see are the male strippers that perform in our show. Don't be fooled by groups with similar names that have copied our look. We are the original and longest running All American Babes Revue in America.
Don't just take our word on it, All American Babes has been featured in FHM Magazine, Stuff Magazine and has also appeared on the Tonight Show.
www.American-Babes.us
Show time
9-11pm every Friday and Saturday
Located in New York, Atlantic City and Philadelphia
Tickets sell quickly, book in advance. Book Now by calling the number below.

Gay Bachelorette and Bachelor Parties in Atlantic City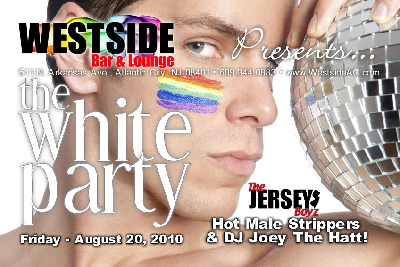 ---

The Men you see are the male strippers that perform in the selected male revues listed above. Not all the performers are listed. We suggest for a complete listing, please visit the respected web sites of that particular male revue.
609-225-9045